ELEMENTARY SCHOOL PROGRAM
"Education is not the preparation for life,
education is life itself."
Choosing a school community that reinforces our family's values and supports our child to reach his or her full potential is one of the most important decisions we will make as a parent. At The Dewey Schools, we celebrate these valuable years by designing a school where children will develop the positive attitudes towards learning and the establishment of relationships. 
Elementary School lays the foundation for the higher levels of education that follow later on. Therefore, we focus on the betterment of the fundamental skills in the areas of literacy, numeracy, social sciences and natural sciences, while  simultaneously  students apply the acquired knowledge to the real world practices and nurture the love of lifelong learning in each of them.
Curiosity and passion are initiated through the student's self-exploration, observation, inquiry and discovery of the outside world. The challenge to figure out solutions to their own questions will sharpen their skills in creativity and collaboration, as well as their eagerness to share with the local and global community their findings on the digital platform, and from there, to deliver impacts to the world.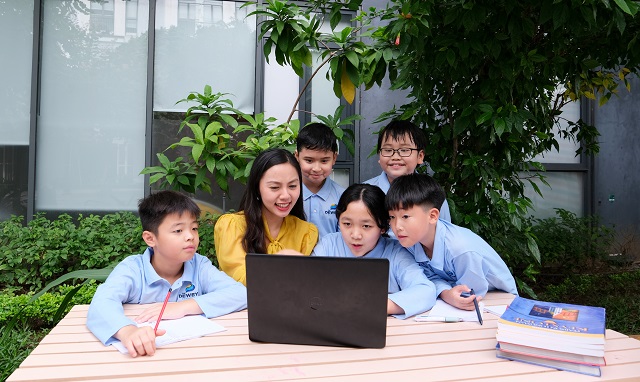 The Dewey Schools Program generates a mindset that spirals through three domains of consciousness (corresponding with three subjects of cognition) to form a complete human: 


Reason – The Truthe
Science Subjects: Mathematics, Natural Sciences, Social Sciences, English language


Will – The Goodness
Ethic Subjects: Way of Living, Life Value Program, Homeroom Program


Innermost feelings – The Beauty
Arts Subjects: Literature, Music, Fine Arts
For every objective, a set of ACTIONS is organized in each learning period with a particular method specifically designed for the achievement of the objective.

ELEMENTARY SCHOOL
Students are taught learning strategies

MIDDLE SCHOOL
Students use the learning strategies to acquire knowledge and skills
HIGH SCHOOL
Students are familiarized with researching skills to get ready for tertiary and higher education
The Dewey Advanced Elementary Program
The Advanced Program prepares students for study in Vietnam and abroad. The Vietnamese and English Integrated curriculum is focused on a more extensive, innovative Vietnamese experience while continuing to ensure English language study requirements necessary for success in our global community. Students also have the opportunity for a cultural immersion experience in the U.S.A. with our partner school Mount Vernon.
The Dewey Bilingual Elementary Program
The Bilingual Program is the core foundational program at Dewey for grades 1 through 12. The structure and organization of the Bilingual Program is designed for students to achieve substantial capability in both Vietnamese and English and to have a deep understanding of the concepts of collaboration, innovation, and design-thinking.

The Dewey Schools designs a better world and empowers learners to be seekers and explorers.