In secondary and high school, each experience on the journey of exploring one's self has direct impacts on the "future map" of TDSers. In the orientation week of 2023-2024 school year, junior and high school students at TDS had a workshop under the theme "To explore the career orientation and preparation for college". The workshop gave students a better view of career path, overseas study chances & college education at The Dewey Schools. They were also informed of the importance of participating in extracurricular and community activities in order to produce personal essays and profiles for college application.
TDSers were inspired by 03 special guests with impressive profiles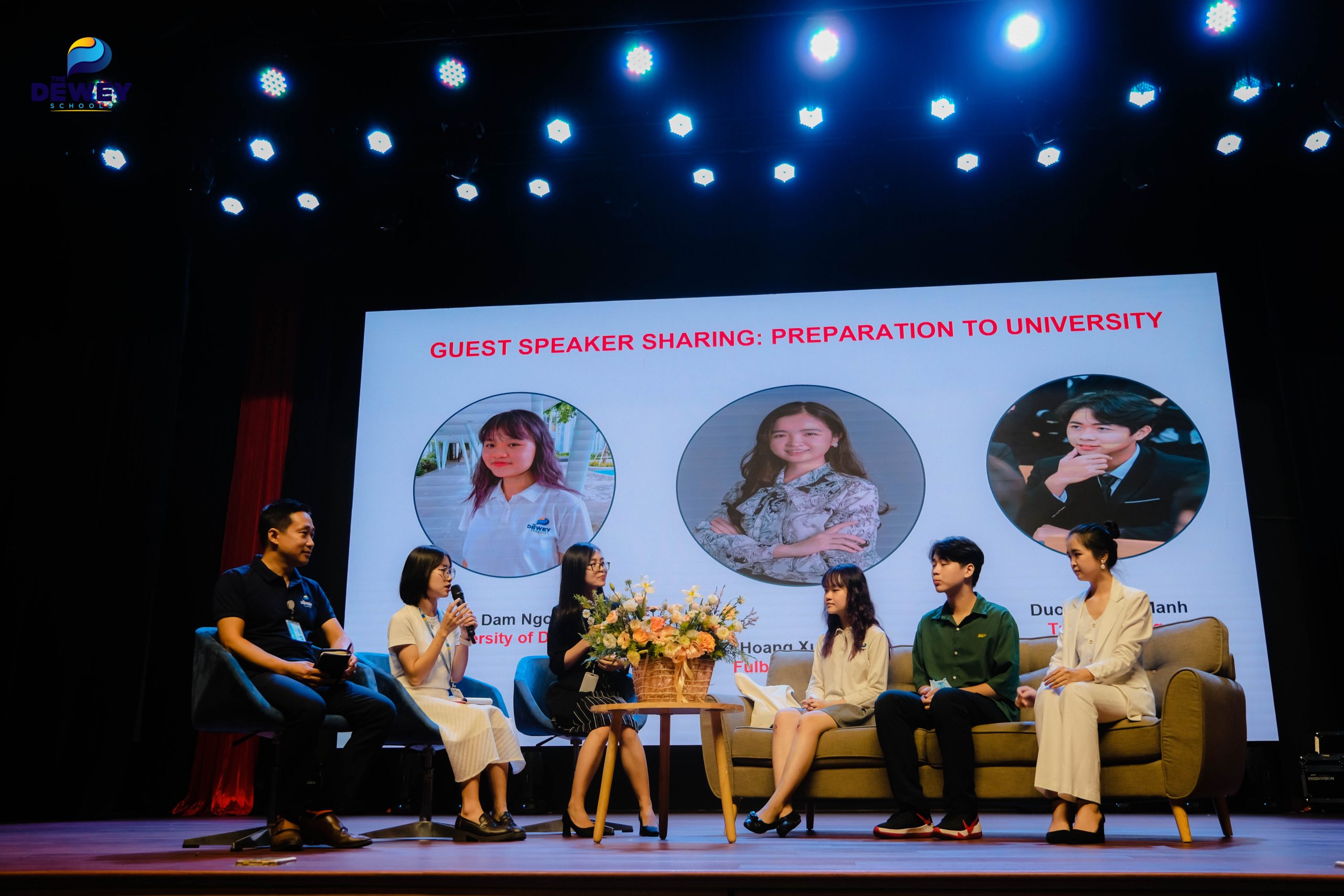 Tran Dam Ngoc Phi
A student at The Dewey Schools with 8.0 IELTS, winning "Vietnam Anniversary Scholarship" of Dundee University of UK (one of top rated art schools in the UK) for Vietnamese students in Fine Arts, gold medal in writing & silver medal in team debate during World's Scholar's Cup's final; founder of U Underground project.
Hoang Xuan Ngan
A student from Fulbright University: Third place in "I and Math" contest in 2017 organized by Pi Magazine for middle school students; ambassador of "Young Maker Camp" organized by Young Maker Vietnam in 2017; Top 14 in Trường Teen 2019 with most favorite candidate title; and various summer camp as well as short-term scholarships
Duong Tuan Manh
Full-ride scholarship for Electrical Engineering Bachelor at Vin University; scholarship of 7.1 billion dong of Trinity College in the US (#39 LAC); Fullpride scholarship at UNVIE Youth Space Exchanges, sponsored by United States Department of State's Bureau of Educational and Cultural Affairs in Vienna; team leader of 4G Project of United States Department of State and University of Montana; Gold medal in AI-JAM U.S; Top 8 in Technical Design contest sponsored by Hanoi University of Science and Technology and US Embassy in Hanoi.
Sharing with TDSers the tips to produce an impressive profile for college application, Tuan Manh said that he set up a goal for himself since high school that he would one day make his dreams come true in the US. One decided upon applying for colleges in the US and international colleges in Vietnam, throughout 3 years of high school, he worked hard on 'making' his profile, maintaining a good GPA, taking standardized exams, and joining extra-curricular activities. However, to impress the Admission Committee of colleges, students are advised to find chances for more activities to highlight their personal story in the profile. For example, a huge plus that Tuan Manh added to his profile was to show his passion for technical engineering by becoming one of the two Vietnamese students to join a training course in Washington sponsored by the US government. 
Especially, Hoang Xuan Ngan had the most honest talk to encourage TDSers in following their dreams: "Not everyone is lucky to realize their dreams from the beginning. I think you should invest time finding yours, because you're now still in the experimental phase. I'd been always questioning myself 'What kind of person do I want to become?' We each have our own definition of success. As for me, I always believe in two things. The first thing is, always be kind; and secondly, always determine where I'm going to. The most important thing is you're serious about what you like or want to do."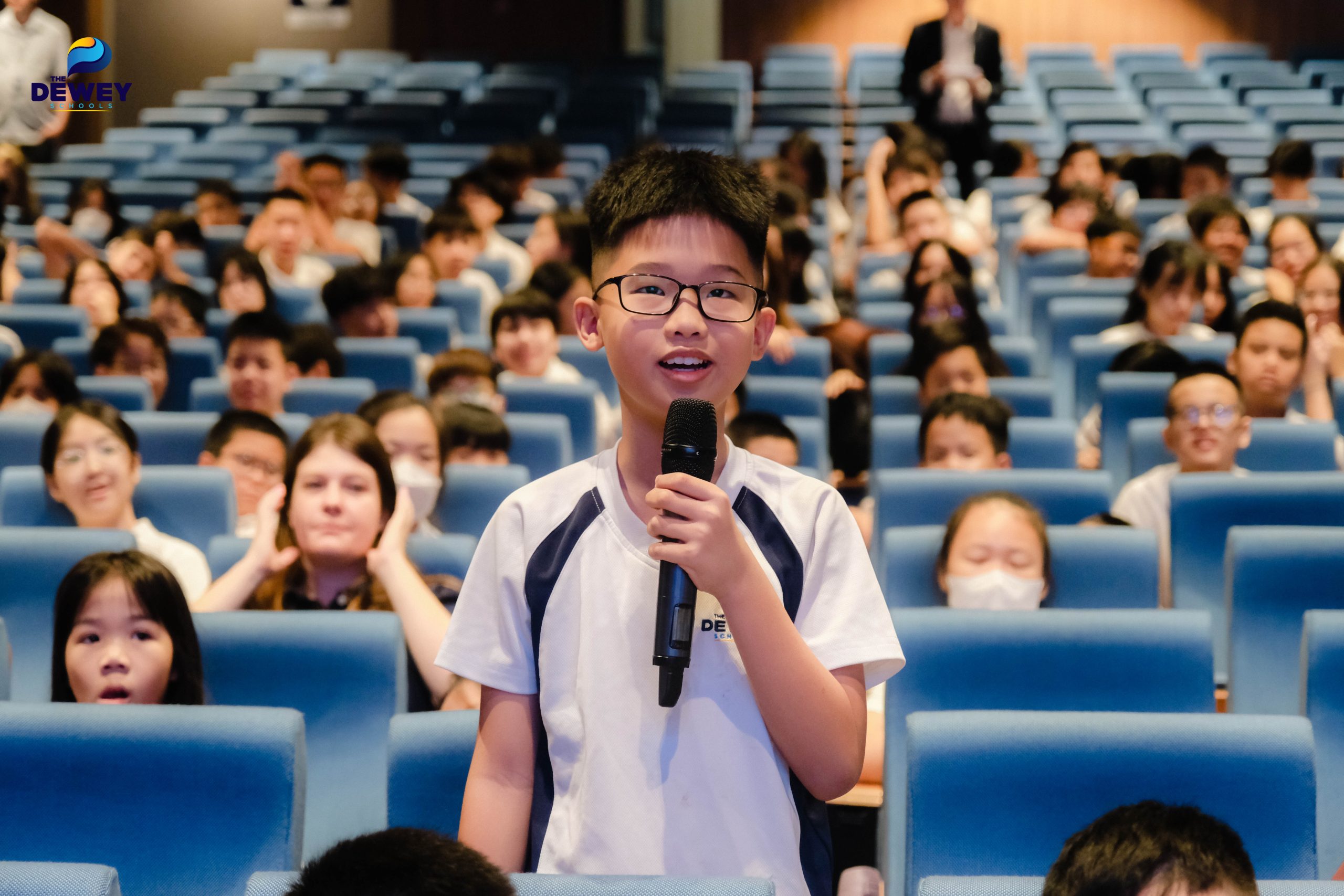 Also in the workshop, Ms. Thu Ha, an advisor for study abroad and career counselling at Dewey said, "We teachers here are always besides our students on their journey of exploring themselves and preparing for college. All of us, regardless of our age, are on our own journey of exploring and improving ourselves, even the teachers. There's only one different and important thing that I want to tell you. If you make an early preparation, find out your wish early, and take action from an early phase, you will surely find joy and interesting things to learn and strive for each day. That will help you find the answer for the questions such as 'Who am I?', 'What are my values?', 'What do I want to do?', and "Which school do I want to attend for my college education?"
The talk "To explore the career orientation and preparation for college" gave TDSers an overview on how to produce an impressive profile and gradually set up goals to win scholarships for college. Accompanying TDSers, The Dewey Schools always put a focus on the activities related to overseas study chances and career orientation for middle and high school students so that they are equipped with background knowledge and skills required for making decisions for their study and future career.