On March 3rd, Ha Anh and Bao Chau became the representatives of The Dewey Schools who had their names signed into the International Trade Challenge Asian Finals as the top 26 excellent teams despite being the youngest candidates of the contest.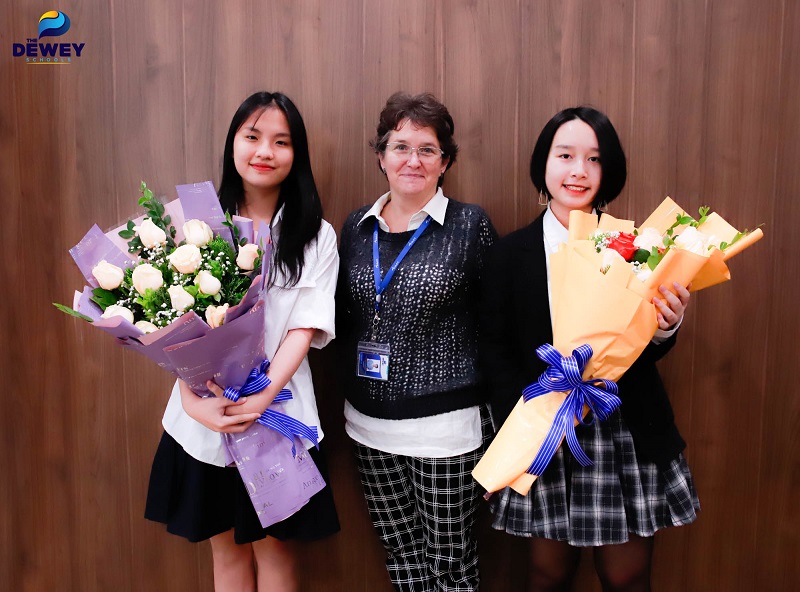 Qualified finalists were required to part company with their registered team member and paired up with another international participant. Ha Anh and Bao Chau then collaborated well with their new teammates from Malaysia and Japan to come up with excellent ideas for the question: Develop a mental wellbeing beneficial product for South Africans. 
Relied on their own innovation and a go-getter spirit, with the valuable counsel from parents and teachers, as well as the collaboration with their international counterparts, Ha Anh and Bao Chau delivered the ideas of a flashcard set and Lula essential oil.
The most intensive part of the competition was that the two students were required to do the market analysis and cost calculation in order to finalize a completed business plan within less than 36 hours since the announcement of the question.
For the idea of a flashcard set from Bao Chau's group, they used quotes, affirmations, and inspirational stories written in 4 languages to reach every subject in South African and deliver the mental values of each card, the card set even had a version for the blind.
The Lula essential oil product set proposed by Ha Anh's group could be made from raw materials in South Africa, used at different times of day, each moment will bring the user lasting positive emotions and energy.
The message that they conveyed in their products was that within simple things or small products could lie a seed of change for a person, thereby changing a community and a society, a country.
The Finals introduced multiple levels of difficulty: the problem presented, preparation time limit, international collaboration, time zone difference…  However, with their effort and determination, backed by the support from the school and families, especially from their teacher, Mr. Nguyen Trong Tung, who is not only a teacher but also a companion providing guidance, our two students stepped forward with self-confidence in the international platform.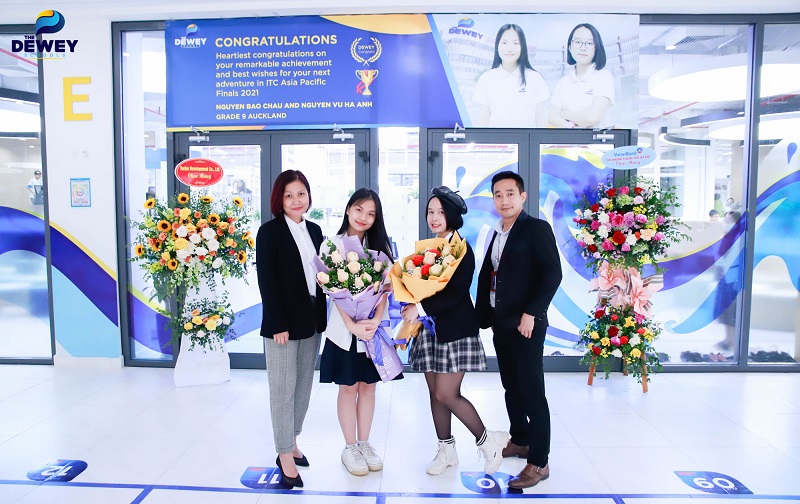 When the finals ended, Bao Chau wanted to send a word to her friends and other young fellows: 'Don't hesitate to try something new, it doesn't matter if you win or not, we will learn a lot more: the knowledge, the experiments, and more importantly, the valuable experiences'. Ha Anh and Bao Chau affirmed their participation in future contests and challenges.  
Ms. Vu Thi Thu Ha, mother of Ha Anh, shared with us: 'This is an amazing opportunity for our children, when taking part in the contest, besides the awards, they had a chance to practice their research skill, their self-study ability and they won over themselves. Witnessing how they have grown after the competition, I and everybody feel extremely proud'.
Ms. Thu Ha, on behalf of the school parents, sent her thanks to the school for supporting their children wholeheartedly, to teacher Tung for having been by his students' side all along and to Ms. Shannon for her thoughtful encouragement and acknowledgement to the two students right from the first back-to-school day.
Congratulations to Ha Anh and Bao Chau for their proud achievements!