Thanh Mai, a student of The Dewey Shools (TDS) born in 2009, left parents and students with a deep impression when she appeared on the IELTS Face-off show as a guest with an 8.5 IELTS for the first time taking the test.
8.5 overall (9.0 Listening, 8.5 Reading, 8.0 Speaking, and 7.5 Writing) is a "dream" score for most IELTS aspirants when they start their IELTS learning journeys. To have the best results, candidates need not only good English language competency but also solid background knowledge in different fields such as History, Geography, Philosophy, Literature, Language, Arts, and even politics or society, etc. So what helps Thanh Mai, a 12-year-old girl, achieve such excellent results?
Proper learning orientation from family and valuable experiences at school
For Thanh Mai, learning English is a long-term process with a clear orientation of her family and school from the kindergarten level. Providing Thanh Mai with a natural exposure to English, Thanh Mai's parents expect her to have an effective English learning environment where English is not only a school subject but also a combination of many life aspects. Mai has been introduced to English through stories, songs, or simple conversations by her parents. English is a part of her life and gradually becomes a familiar language. Learning at school also helps her enhance "two-way interaction" in English. In addition, she has to research and prepare presentations on a character or do short news programs in English in class.
Thanh Mai not only studies English as a school subject but also uses English in most learning activities of various fields at school, such as language, literature, composition, science, MDE, technology, and arts. Talking about the tips to get a high band score on the first test, Thanh Mai said: "To get high scores in English tests, including IELTS, you need to get used to using English, specifically writing in English, speaking English, reading English books, etc. I have many opportunities to practice these tasks at school, so I am very confident with the language use."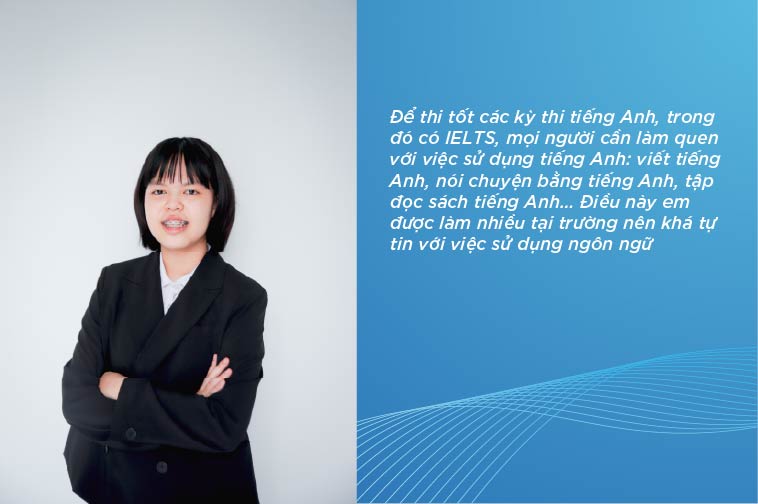 Thanh Mai also said that she encountered difficult questions in the Speaking test. The examiner gave her the topic "Social Customs," which is a challenging topic for students because they do not have a broad knowledge of culture. However, Thanh Mai completed her Speaking task using the interdisciplinary thinking that she was taught when studying at TDS.
"At my school, we are learning with a new method that allows a synthesis of characteristics from many disciplines such as history, geography, philosophy, literature, art, politics, language, etc. We can fulfill our potential through learning projects, workshops, and showcases. Besides, we can ask many questions, research into the issues, and put ourselves in specific social, historical, and cultural contexts to understand more about our surrounding world", Mai said.
The endless effort of a hard-working student
Thanh Mai also shared that apart from learning at school, she read a lot of English books and watched English movies at home. Reading books helps her improve her writing skills and be confident in writing essays, while watching English movies helps her be familiar with the speaking styles of native speakers to improve her pronunciation, learn more vocabulary, and use the words correctly in different contexts.
In addition to her excellent academic performance at the school, with an 8.5 IELTS at the age of 12, Thanh Mai also possesses admirable achievements:
Grand Award – the highest rank for Middle School students in Public Speech – at Global Leadership English Challenge Vietnam 2022 (GLEC)
Winner of Spelling Bee Contest
Young Cultural Ambassador Award – Learning about Ireland, its people, and education contest organized by the Embassy of Ireland
Third prize at TOEFL Primary Challenge Competition in Hanoi
Outstanding Young Delegate Award at Junior MUN Challenge 2019 by Amslink
Gold Medal in Debate at World Scholar's Cup 2021
Impressive achievements at many Mathematics Competitions in Vietnam: IKMC (Excellent), IMAS (Silver), AMO (Gold), AMC Australia (Excellent)
Runners-up prize at Global Art Competition in Cambodia
Vincent-D'Indy Canadian Certificate of Excellence for Piano Performance Level 4
Excellence in Music Theory Level 4 and 5 Exam of ABRSM (The Associated Board of the Royal School of Music)
Thanh Mai also participates in a number of other projects on environmental protection, such as the ACCB Vietnam project on climate change and biodiversity, "Finding clean air," "A Week of Living Green," etc.