The Dewey University Day held on October 13th was a successful event that provided extensive opportunities for Dewey students from TDS Tay Ho Tay and TDS Hai Phong to explore nearly 50 different colleges and universities from 17 countries with developed education systems worldwide, including the United Kingdom, United States, Canada, Australia, New Zealand, South Korea, Japan, and more. This event, organized by The Dewey Schools' Career Counseling and University Guidance Office, was the largest event of the year.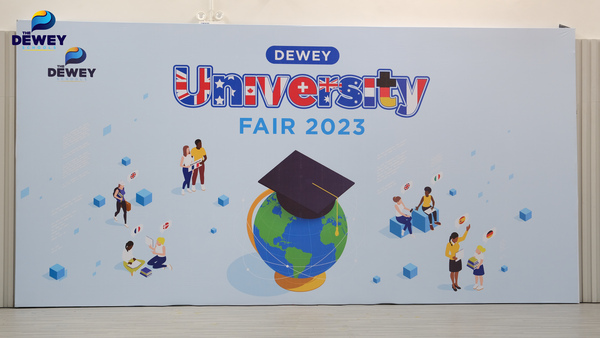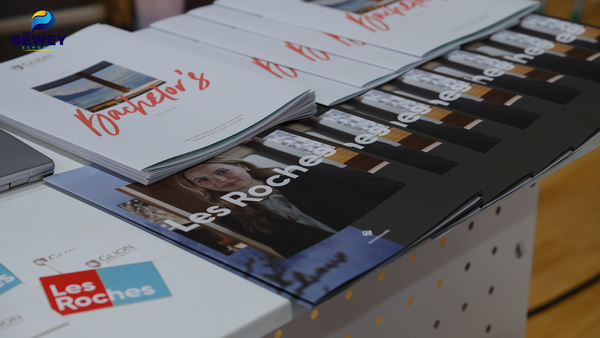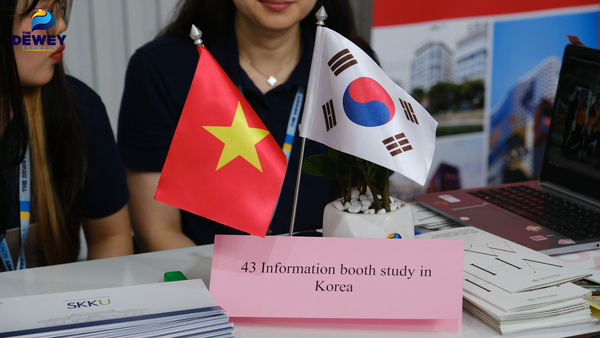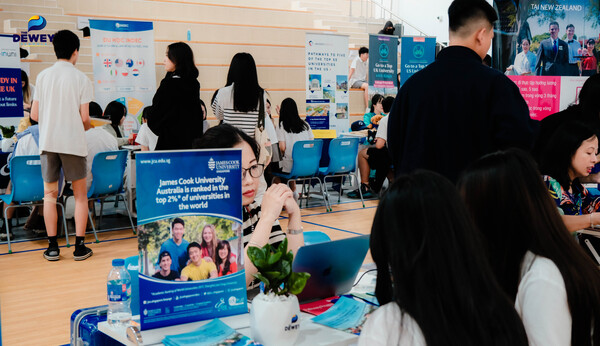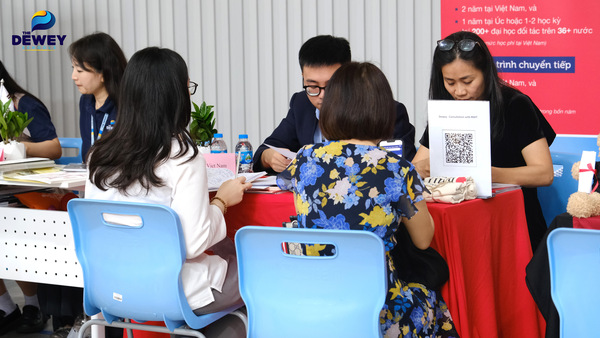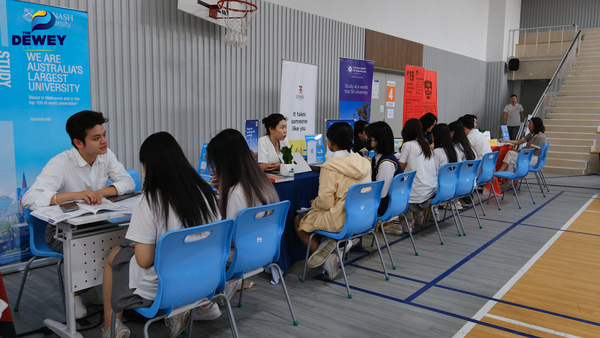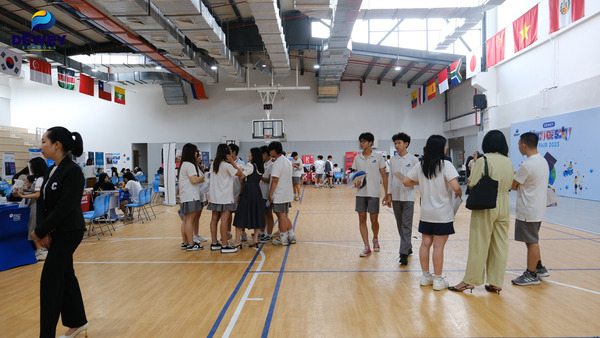 Students had the opportunity to gain firsthand knowledge about the learning environment, admission procedures, and scholarship programs of various colleges and universities in order to make informed decisions about the most suitable institution and field of study for their future. Additionally, TDSers had one-on-one consultations with counselors from colleges and universities to review their study abroad applications.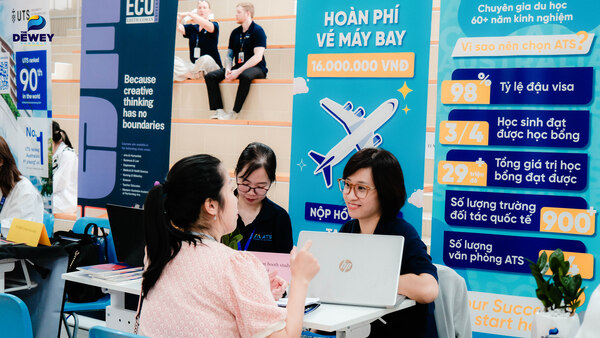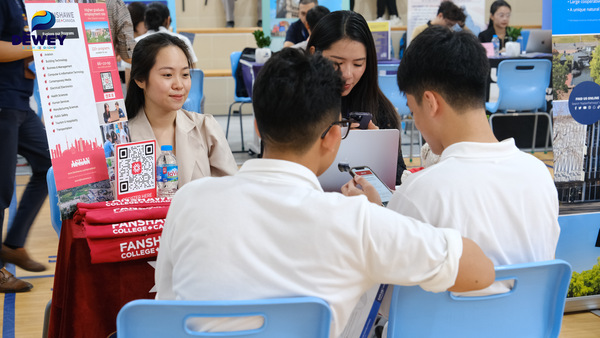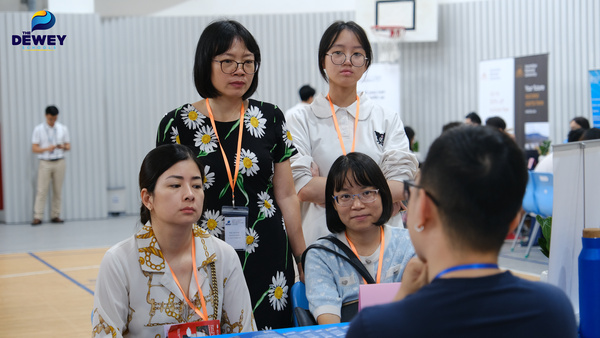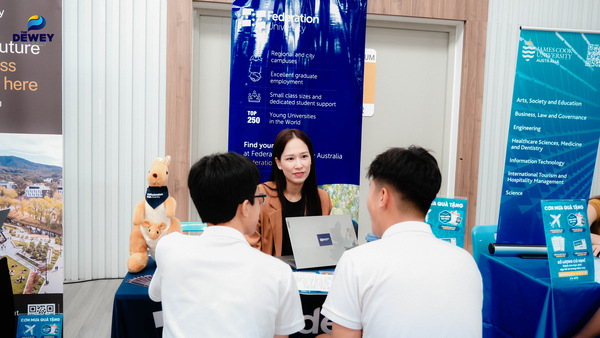 Ms. Nguyen Thi Thu Ha, the representative of the University and Career Counseling Office at Dewey High School, shared, "With the inaugural University Fair organized at Dewey, our school aims to provide a platform for students in grades 9 to 12 to directly interact with admission representatives from various countries worldwide. This experience enables students to understand the differences between educational systems in different countries, make comparisons, analyze and synthesize information to make informed choices about suitable university environments. Moreover, a crucial focus of this initiative is for teachers and counselors to inspire students, expand their thinking, and encourage them to take action in their academic plans to achieve their goals."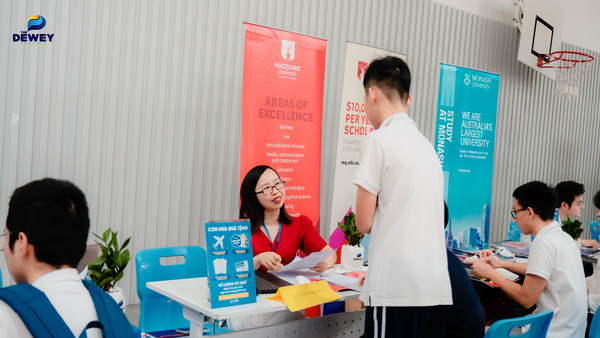 During the event, in addition to visiting booths and receiving counseling from colleges and universities, TDSers had the opportunity to participate in two highly informative special seminars:
Explore studying abroad in Australia and engage with alumni, specifically designed for students in grades 9 and 10, presented by expert Alex Vu – Director of the International Admissions and Cooperation Department in the Vietnam Region, University of Sydney.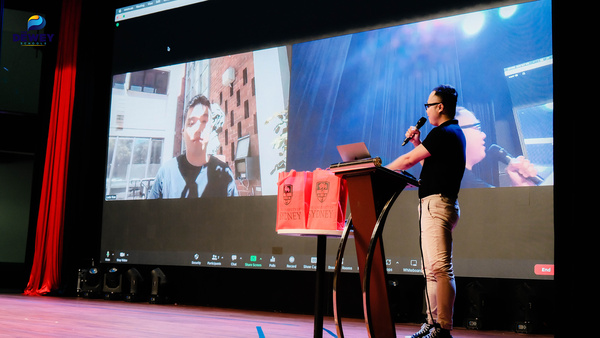 Not only did expert Alex Vu provide tips for creating a compelling portfolio with academic achievements, extracurricular activities, and showcasing personal identity, but he also addressed students' inquiries about cultural shock, part-time jobs for students, the local culture, and more. Furthermore, the speaker directly connected with a current student studying at the University of Sydney to share insights on academic activities and strategies for pursuing high scholarships at the university.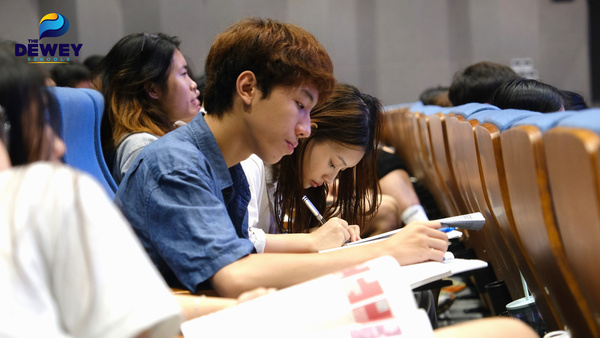 And the second special seminars is Prepare for university admissions aimed at students in grades 11 and 12, delivered by Tran Dac Minh Trung, a Harvard expert who holds a Bachelor's degree from the University of Pennsylvania, a Master's degree in Education from Harvard University, and former Director of Admissions at VinUni.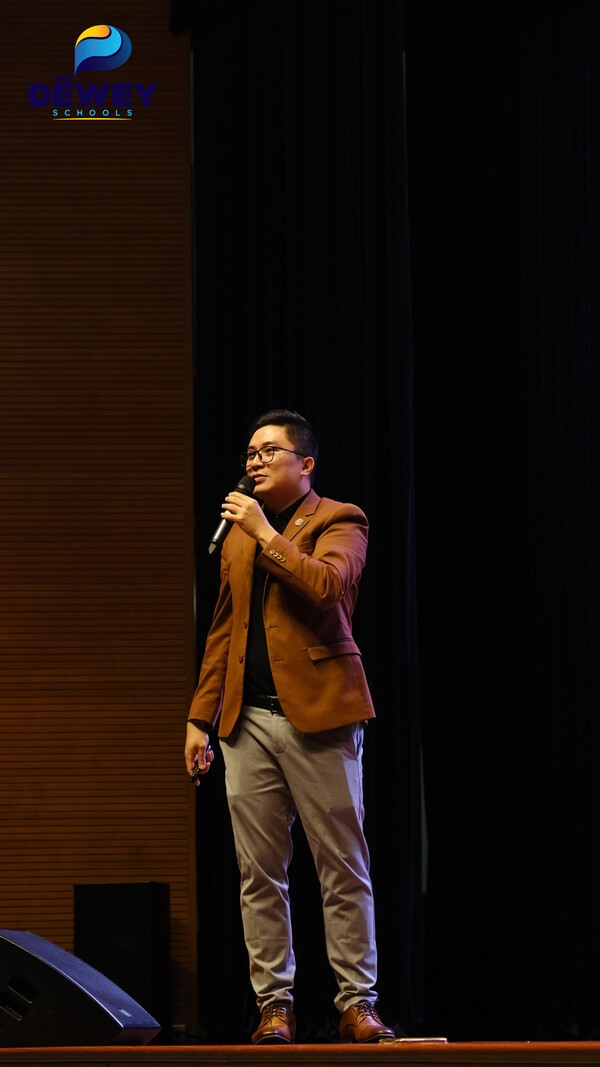 Speaker Tran Dac Minh Trung brings fresh perspectives on studying in the United States, including regulations, rules, and extracurricular activities that enhance the chances of admission to universities in the land of the stars and stripes. Besides, valuable experiences are shared to equip students with the necessary knowledge and tools to pursue their dreams of studying in the United States.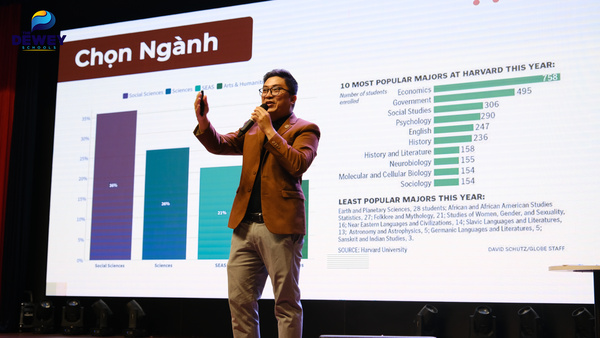 "Not choosing the best university, but choosing the most suitable university" is the advice that speaker Minh Trung wants to emphasize to TDSers, so that you can find an educational environment that enhances your strengths and aligns with your abilities. TDSers should also note that the key to an impressive essay lies in "AUTHENTICITY" and "FUN," which includes demonstrating genuine actions and values, showcasing distinctive personalities and uniqueness.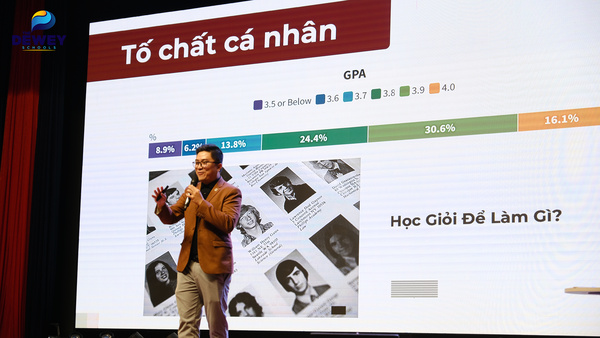 Nguyen Phan Nhat Anh (11Monaco) shared his excitement right after the Dewey University Fair, stating, "This event was well-organized and provided our students with a chance to visualize and plan for studying abroad at an early stage. With the guidance offered by the participating colleges and universities during today's event, I am confident that I can prepare the necessary documents and qualifications to secure valuable scholarships."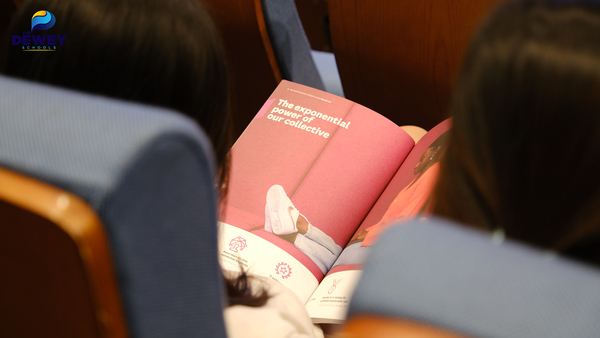 Representing Hotel and Tourism Management Institute Switzerland (HTMI), Ms. Nguyen Thuy Duong also expressed, "TDS students are very confident and proactive in approaching and asking questions to the universities. The organizers ensured smooth and attentive arrangements, from welcoming the guests to overall event organization, which was truly excellent."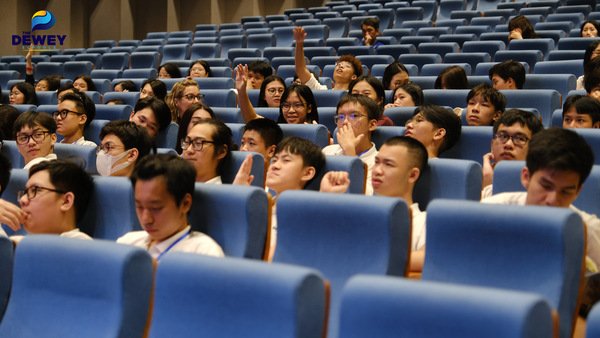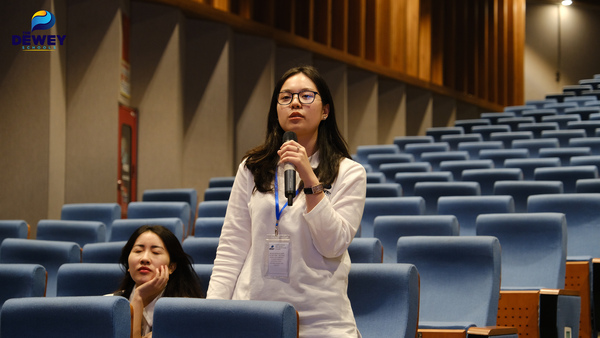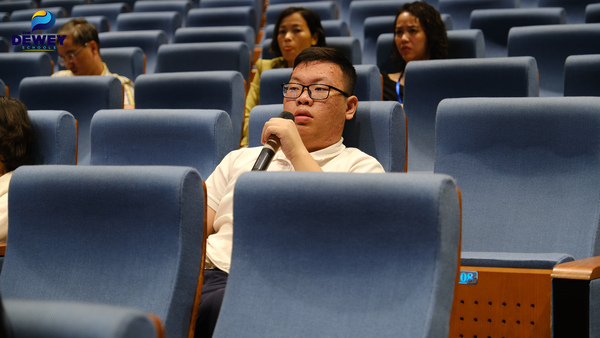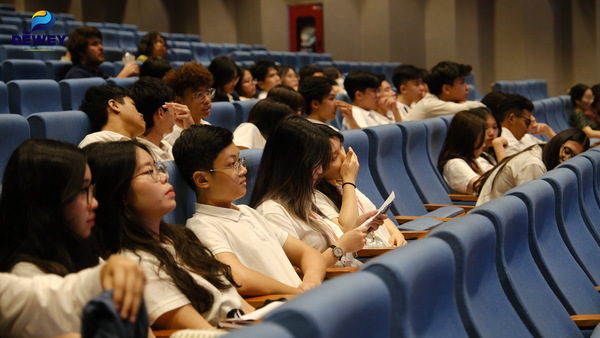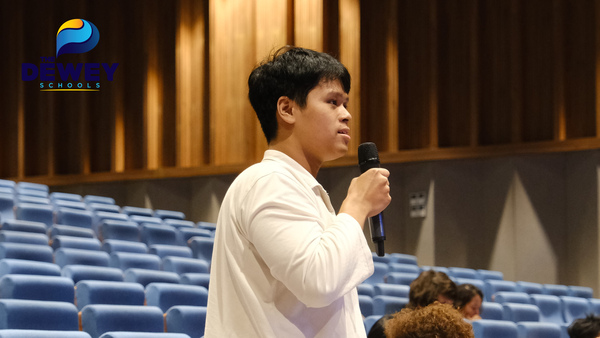 The event witnessed a significant presence of parents, which helped them gain a deeper understanding of their child's prospective university and its compatibility with their direction and family's financial conditions. Nguyen Minh Huong, a parent from TDS Hai Phong, shared, "There are numerous destination options for students with study abroad aspirations, such as Australia, Switzerland, or the United States. The university representatives were very enthusiastic, and I obtained valuable information to choose a university that aligns with my child's abilities and our family's financial situation."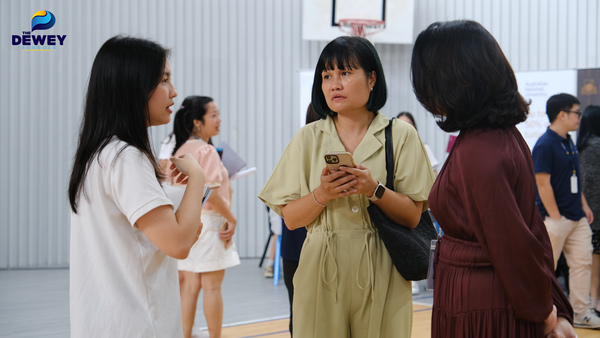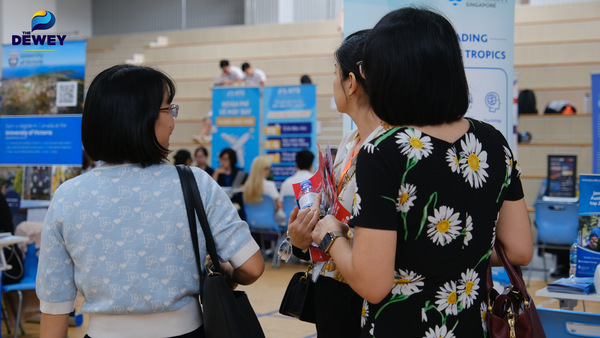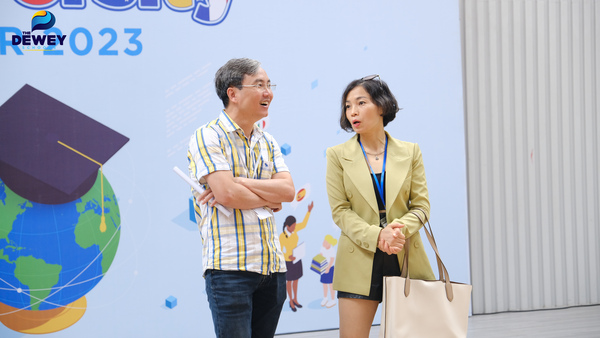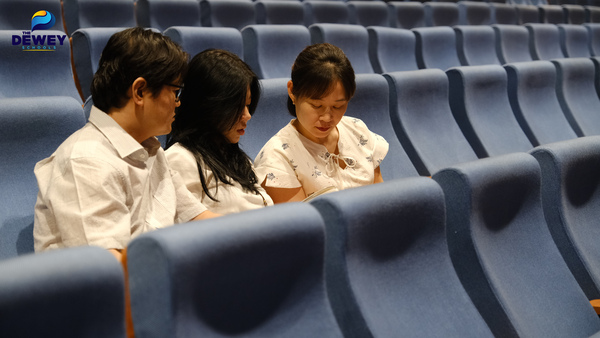 The Dewey University Fair 2023 has come to a close, opening up wide-ranging and practical opportunities for students to explore higher education. Dewey Schools would like to express sincere gratitude to the experts, partner institutions, teachers, parents, and students who enthusiastically participated and became an integral part of this event.