Every song is written with different notes and the " Symphony of Aspiration" is no exception.  There are high notes with loads of joy and pride, there are low notes with emotional stories.  All create a complete harmony, bearing the distinctive color of The Dewey Schools.
The Organizing Team is pleased to introduce the special "music notes", creating 4 chapters with emotional sounds, who are also the inspirational characters in the "Symphony of Aspiration" project:
️️️🎵 Doctor – Dr. Nguyen Thi Hue – Head of Advanced Treatment Department, Traditional Medicine Hospital, Ministry of Public Security, a TDS parent, with a touching story of the white shirted "soldiers" in the fight against Covid-19  with the message "Generously give love away every day, so that love lasts forever!"
️️️🎵 Mr. Dermot O'Shea – The Dewey Schools Hai Phong English Teacher with a story that strongly inspires students about a love for lifelong learning with the message "LIFELONG LEARNING – Striving for a better version of your own!"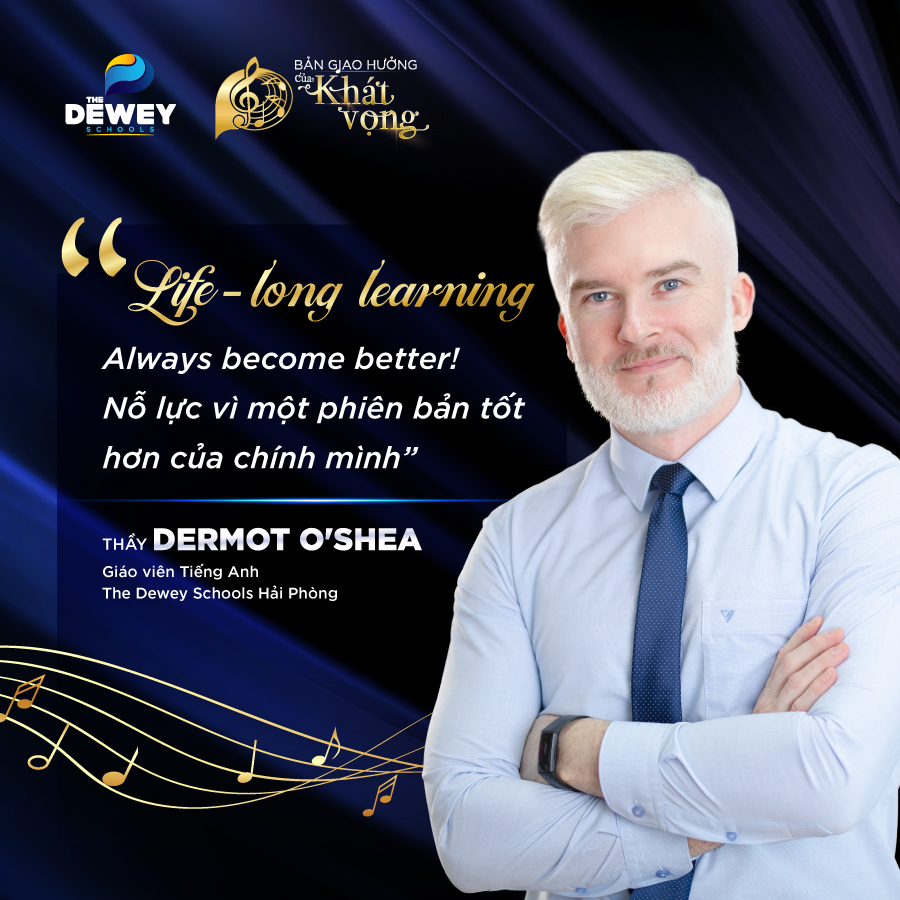 ️️🎵 Cao Hoang Chau Anh – a student in class 10 Sofia, The Dewey Schools Hai Phong, with a story full of positive energy with the message "(keeping) INTEGRITY with your dreams, you will find that you are more extraordinary than you'd thought!"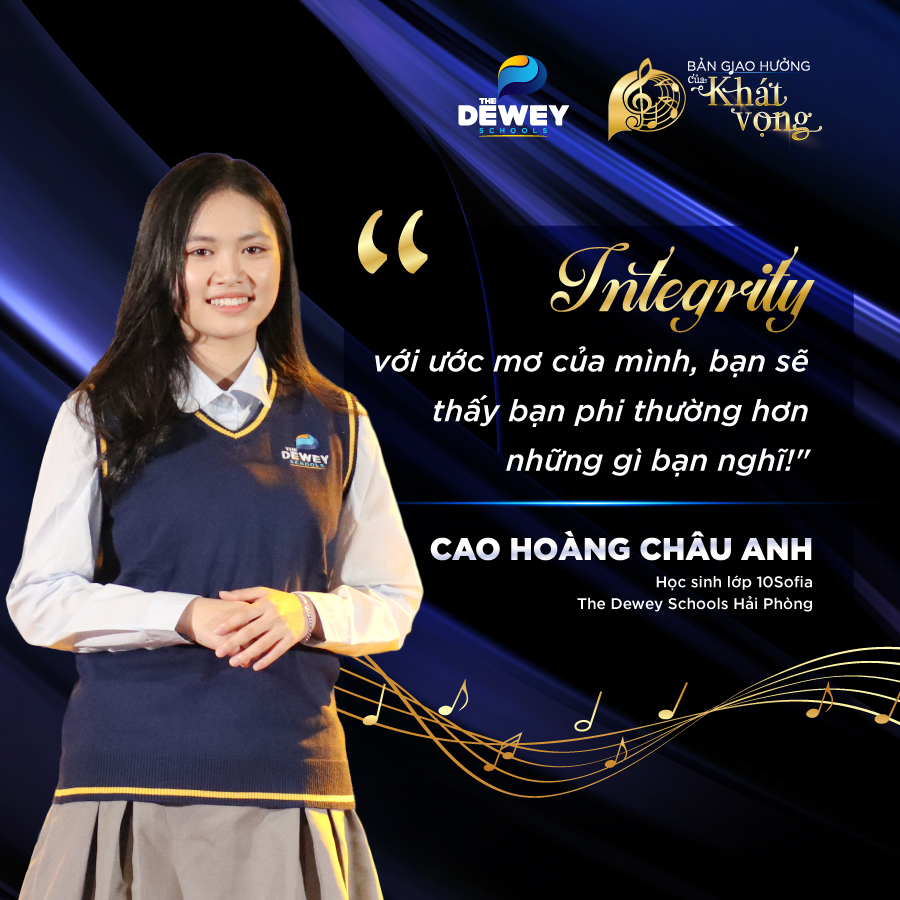 ️️️🎵 Nguyen Mai Phuong – a student in class 6 Vancouver, The Dewey Schools Tay Ho Tay, with a story about confidently pursuing your passion and the message "Follow your PASSION and success will follow you!"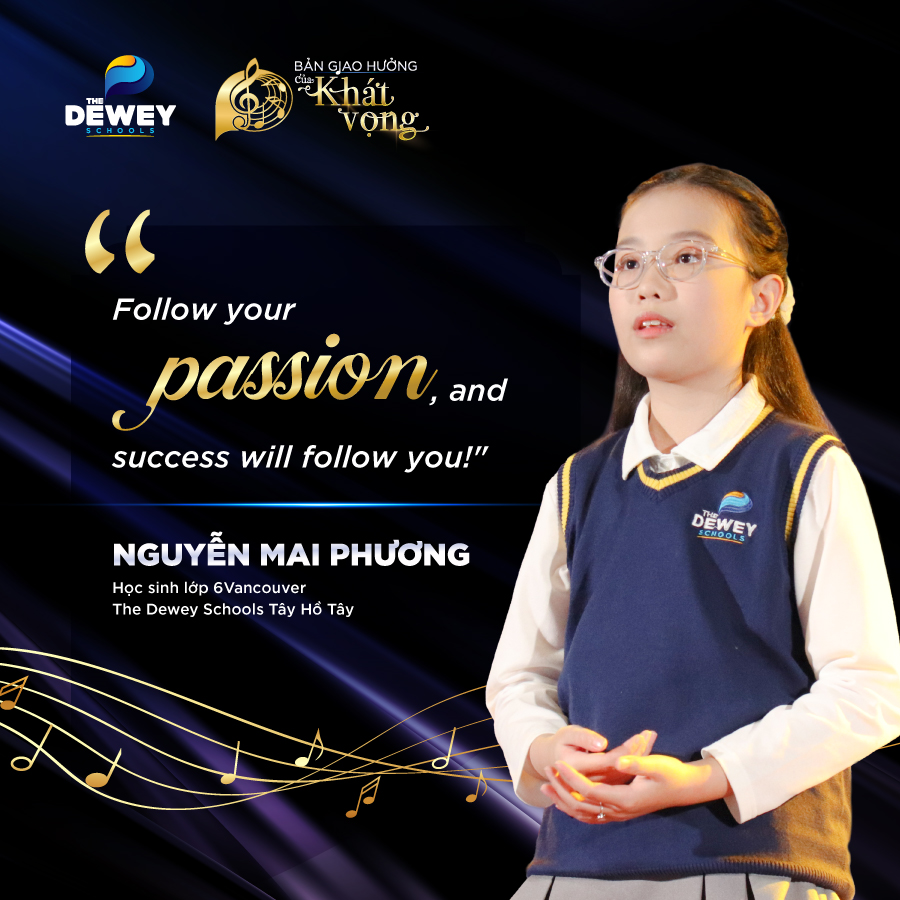 —
'The Symphony of Aspiration' is a 4-chapter artistic program that encompasses a combination of emotions, intelligence, and meaningful messages for life, and is well prepared and performed by TDS parents, teachers and students. This is also a lively example of The Dewey Schools' Aspiration.
️🎼 Chapter I: Music of the Heart 
️🎼 Chapter II: The symphony of wisdom 
️🎼 Chapter III: High notes of the mind 
️🎼 Chapter IV: Melodies of passion 
📌 The program is projected to be broadcasted at 20:00 on Saturday Mar. 19, 2022 on The Dewey Schools' official fan page.
Parents and students are cordially invited to watch the program, to enjoy the wonderful melodies and to feel the "Aspiration" that we hope to bring to our community!