THE MIDDLE SCHOOL PROGRAM
"Education is not the preparation for life,
education is life itself."
In Middle School, students are engaged in using the strategies learned to internalize the knowledge necessary for them to start a career or pursue the next level of education.
Throughout the course of study, students develop self-consciousness, explore their passions, identify their scope of impact and develop the leadership ability. Students take greater ownership of their learning through the learning projects and extracurricular activities, applied learning programs that maintain a balance between responsibility and freedom that grows with their increasing independence. School should be a place where we live, where our children are driven to create great things, rather than where we teach them to create great things after they leave our system.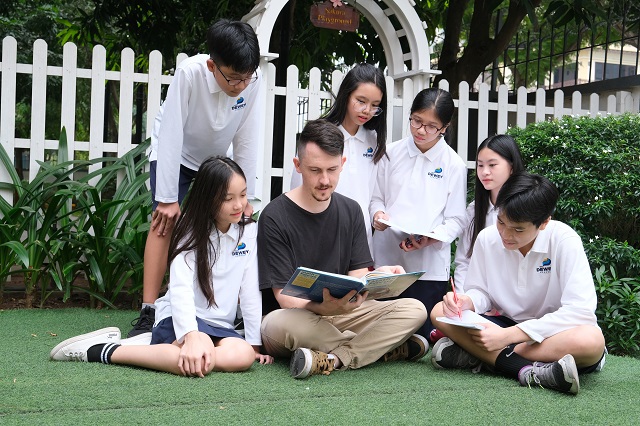 The Dewey Middle School Program generates a mindset that spirals through three domains of consciousness (corresponding with three subjects of cognition) to form a complete human:


Reason – The Truthe
Science Subjects: Mathematics, Natural Sciences, Social Sciences, English language


Will – The Goodness
Ethic Subjects: Way of Living, Life Value Program, Homeroom Program


Innermost feelings – The Beauty
Arts Subjects: Literature, Music, Fine Arts
For every objective, a set of ACTIONS is organized in each learning period with a particular method specifically designed for the achievement of that objective.

ELEMENTARY SCHOOL
Students are taught learning strategies

MIDDLE SCHOOL
Students use the learning strategies to acquire knowledge and skills
HIGH SCHOOL
Students are familiarized with researching skills to get ready for tertiary and higher education
The Dewey Advanced program for Middle school
The Advanced Program prepares students for study in Vietnam and abroad. The Vietnamese and English Integrated curriculum is focused on a more extensive, innovative Vietnamese experience while continuing to ensure English language study requirements necessary for success in our global community. Students also have the opportunity for a cultural immersion experience in the U.S.A. with our partner school Mount Vernon.
The Dewey Bilingual Program for Middle school
The Bilingual Program is the core foundational program at Dewey for grades 1 through 12. The structure and organization of the Bilingual Program is designed for students to achieve substantial capability in both Vietnamese and English and to have a deep understanding of the concepts of collaboration, innovation, and design-thinking.
The Dewey International Adventure Program for Middle school
The Adventure Program at Dewey for students begins in grades 6 through 12. Adventure students develop a fluency and expressiveness in English that enables them to attend college or university abroad. The integrated curriculum is focused on a more extensive, innovative English language acquisition experience while continuing to honor Vietnamese language study requirements.

The Dewey Schools designs a better world and empowers learners to be seekers and explorers.