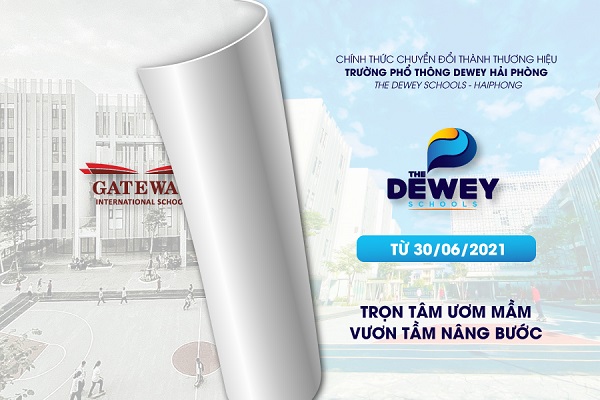 Official change in our name from GATEWAY SCHOOL TO THE DEWEY SCHOOLS HAI PHONG
Gateway Hai Phong is glad to announce the official change in our name from Gateway Hai Phong to The Dewey School Hai Phong from June 30, 2021 with the following details:
– Name: The Dewey Schools Haiphong 
– Website: https://thedeweyschools.edu.vn/
Gateway Hai Phong has gone through a 4-year development with trust and support from parents in promoting the growth of students. Once again, we would like to express our gratitude to all parents for being an integral part on the journey to affirm the pioneering education named Gateway.
The change from Gateway to Dewey is an important milestone that marks the cooperation and partnership between parents and the school, the tireless efforts and dedication of the teachers and staff of Gateway Hai Phong.
We are determined and confident to affirm that this is a strong and comprehensive transformation which will help us realize the ambition to become a symbol of Vietnamese education by 2025. THE DEWEY SCHOOLS is named after the Philosopher John Dewey, the founder of "learning by doing" teaching method (self-studying and self-educating), will carry out the mission of becoming a school of discovery (readiness to university), creativity (global competitiveness), and impact (becoming leaders who have a positive impact on the community).
We are ready for this important transformation to happen, and look forward to your trust and company on the upcoming journey.
Sincerely,
The School Board of Gateway Hai Phong